PRIVATE PLANES
CANCUN INTERNATIONAL AIRPORT - FBO PRIVATE AVIATION
FBO by its acronym in English (Fixed Base Operations) is where you get all the Private aviation, not commercial flights.It is located northwest of the airfield, next to Terminal 1.
When you enter the area of the FBO, you will see an agent to guide you and show you where to park as close to the building and members of the crew will point the way to appear at immigration and customs to submit its documentation and baggage.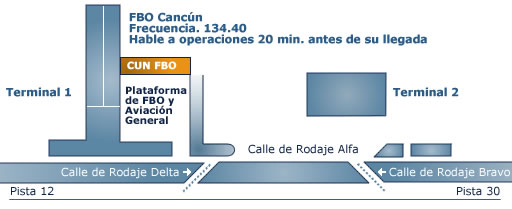 FBO Special Services FBO
FBOEl combustible es abastecido por ASA, contamos con los siguientes tipos de combustibles: Jet-A, AVGAS 100/130
Gourmet food and beverages
Hotel Reservation with special rates for FBO clients
Luxury ground transportation
Car rental
Luxury and exotic car rental
Cell phone rental
Courtesy Snacks for crewmembers
Luxury item shopping
Payment Methods
We accept payment in cash and with the following credit cards:
AMERICAN EXPRESS
VISA
MASTERCARD
UVAIR
Official Requirements
When you fly to or from one of your FBO's you should take following requirements into consideration
AERONAUTICAL DOCUMENTS REQUIRED BY THE LAW
Aircraft registration
Airworthiness certificate
Insuranse policy valid in Mexico with wordwide coverage
Pilot's licences
Single or multiple entry permits (if Aplicable)
Additional Information:
Private or non-commercial aircraft can apply for single or multiple entry permits at the local offices of the D.G.AC. (Mexican civil aviation authority)
Permits for private or non-commercial aircraft have a cost of $567.00 pesos
Commercial aircraft and air ambulances must receive the corresponding authorization from Mexican aeronautical control authorities before arrival
Contact
Dirección General de Aeronáutica Civil
Dirección de Transporte y Control Aeronáutico y/o Subdireccion de Aviacion General y Servicios Aereos.
Address: Providencia 807-1er piso, Col. Del Valle. C.P. 03100, Mexico, D.F.
Tel: +52 (555) 6877620 / +52 (555) 5232955
Fax: +52 (555) 5233419
IMMIGRATION REQUIREMENTS
General declaration (specifyng type of aircraft and registration number, arrival, departure and crewmembers and passenger's details)
Valid Passport
Visa(for those countries that require it)
Immigration form (1 for each passenger or crewmember)
Citizens of the United States may present a birth certificate (original) along with an official photo ID instead of their passports
Minors not traveling with both parents must present a letter of authorization from the parent(s) not accompanying the child.
(To speed up entry procedures, please fax to +52 (99) 8886 0189 the details of passengers and crewmembers, such as: full name, passport number)
Customs Requirements
Customs declarations; each passenger or family head must present a customs declaration
Random checks will be made of passenger's luggage
All crewmember's luggage will be checked by customs agents.
CONTACT US
Eduardo Olamendi
FBO Manager
Cancún International Airport
Tel: +52 (99) 8848 - 7200
Fax: +52 (99) 8886 - 0189
Customer Service
Tel. + 52 998 848-7248
Fax. +52 998 886-0189